Our friendly and knowledgeable staff is dedicated to providing you with the most prompt and satisfactory service possible. 1 Call Service is committed to solving any technical issue your PC can have. We service all major brands and no name clones as well. If you have a Compaq, HP, Dell, Toshiba, Fujitsu, IBM, Lenovo, Quanta, Panasonic etc.. we have you covered.  It is important to have someone who knows the parts you will need and how to get the job done.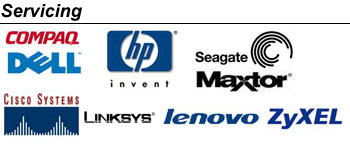 Common issues and solutions

Computer won't boot
Drive not found error
Hardware / Software Malfunctions
New Hardware Upgrades
System Back-ups
Backup data and reinstall Windows
Virus and Spyware Removal
Basic Maintenance and pc tune up
Internet Trouble shooting
Setup router firewall protection
Configure wireless security
Software problems, software hangs and crashes
Stop browser popups
Clean up spam, malware and viruses
Laptop drive replacement
System won't boot or turn on
System takes 5 minutes to load
how to backup files
Setup automatic backup
Restore files from backup
power supply replacement
Answer "How to" or "How do I.." questions.

If your desktop pc or laptop needs service give us a call from anywhere.  We can fix many things remotely and  setup onsite service as needed.   Call 972-418-2000